Last updated on August 20th, 2022 at 04:16 pm
Yoga is a great way to relax and unwind after a long day at work or school. If you want to get into yoga, then you should start off slow and build up gradually. This means starting out with simple poses such as standing forward bends and backbends. Once you've mastered these basic moves, you'll be ready to move on to more advanced postures. 
Yoga is a practice that originated thousands of years ago in India. Today, it has become a global phenomenon, practiced by millions of people around the world. The benefits of practicing yoga include improved flexibility, strength, balance, concentration, and overall well-being.
While yoga is often thought of as purely a physical exercise, it's also a spiritual discipline. In addition to improving your health, yoga helps you develop greater awareness, self-control, patience, compassion, and empathy.
Learn the benefits of yoga and meditation. Yoga is not just a physical activity or a way to get in shape. Find out which yoga poses are the best to relieve stress and improve concentration, and which meditation techniques work best for you. Better yet, learn how to practice yoga at home.
Practicing yoga and meditation can affect your brain in a positive way. You can definitely notice a positive difference after attending a yoga session. 
Yoga can improve your cognitive functions and memory by reducing the stress levels in your body. When you are stressed, your body releases cortisol into the bloodstream, which uses up a lot of glucose in the body.  
From much physical activity, the combination of yoga and meditation seems to be the better choice for depression, anxiety, and stress since there are no side effects and many benefits for your mind, body, and spirit.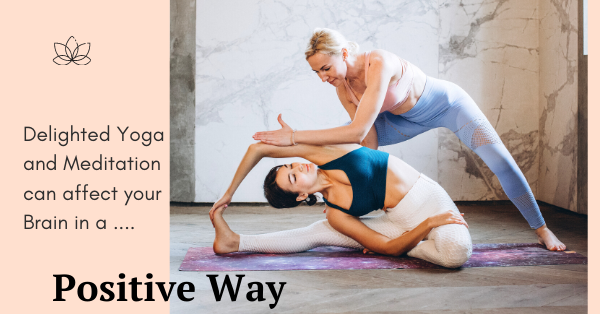 Stress also causes physiological changes that impact the brain and body. You end up using your dominant brain side for organizing thought patterns instead of using your whole brain power to make better decisions and enhance your performance and coordination. Practicing yoga can help retrain your brain and body connection to release old automatic thought patterns and negative habits. The goal is to have what we "think" and "do" to be aligned and function in pure balance.
Physical activity for seniors
Older adults should aim for at least 150 minutes (2 hours and 30 minutes) of moderate-intensity aerobic activity each week, 75 minutes (1 hour and 15 minutes) of vigorous-intensity aerobic physical activity each week, or an equivalent combination of moderate- and vigorous-intensity aerobic activity. This is the recommendation by the University of Nebraska.
Yoga is the Best Exercise for Seniors
Although the aging process and its consequences are unstoppable, there are some methods and remedies which will be implemented to slightly reverse the method of aging. one among the simplest methods which will be performed to assist increase the life quality of elderly people is yoga. Children have many exercise choices to take care of their physical wellness, but the alternatives for the elderly are quite slim. An aerobic class or physical training at the gym could be too tough to be performed by the elderly, considering their fitness at the instant, especially those that weren't really curious about a healthy lifestyle once they were younger.
This is what makes yoga a superb choice for elderly people. You do not need to be at any strength level to start out practicing yoga. Whatever your fitness is at the instant, is where you'll start. you'll also customize your yoga practice easily consistent with your physical capability. Today, you'll find many yoga studios offering yoga classes designed especially for seniors. The shape of exercise offered by yoga for seniors usually consists of sentimental and delicate moves to assist strengthen the joints and muscles. These yoga moves are designed in order that every elderly individual would be ready to perform, remembering any specific physical limitations and wishes.
Physical problems in old age / physical activity
Old age physical problems 
Stress caused by physical problems 
Physical problems caused by anxiety
Mind and Body Exercise for Seniors
Yoga combines physical exercise and meditation elements, so besides exercising your body yoga will also help in rejuvenating your mind. Memory loss and stress are big problems for elderly people, not only does experiencing those situations become a problem but those conditions could also lead to more critical health conditions like Alzheimer's. Yoga helps your mind to relax with proper breathing methods so you can avoid these conditions.
Reducing Physical Problems and Disease
Older people are more prone to many kinds of diseases, and physical problems, however, yoga has been known as one of the best efforts to avoid these unfortunate conditions. From sleeping problems to an extreme health condition like Alzheimer's can be avoided through the proper yoga practice. Other health conditions that can be avoided with the regular practice of yoga include prostate problems, bladder problems, arthritis, osteoporosis, and many more.
There are no limitations in yoga, no matter how old you are you can get the benefits from it, from small kids to a ninety-year-old grandmother, everyone can practice yoga and become a healthier person, mind, body, and spirit.
Thanks to lexiyoga.com
This site contains affiliate links to products. We may receive a commission for purchases made through these links. 
Please follow and like us: