Last updated on May 9th, 2022 at 04:41 pm
Do you find yourself trying hopelessly to get your dog's attention? Does "in one ear and out the other" sound familiar? Or does your dog find it easy to listen to you until he sees the dreaded mail carrier? Whatever the case, it's important that we owners are able to capture and hold our dog's attention. Just imagine the consequences if our dog ran onto a busy road and was not able to listen to us calling him back!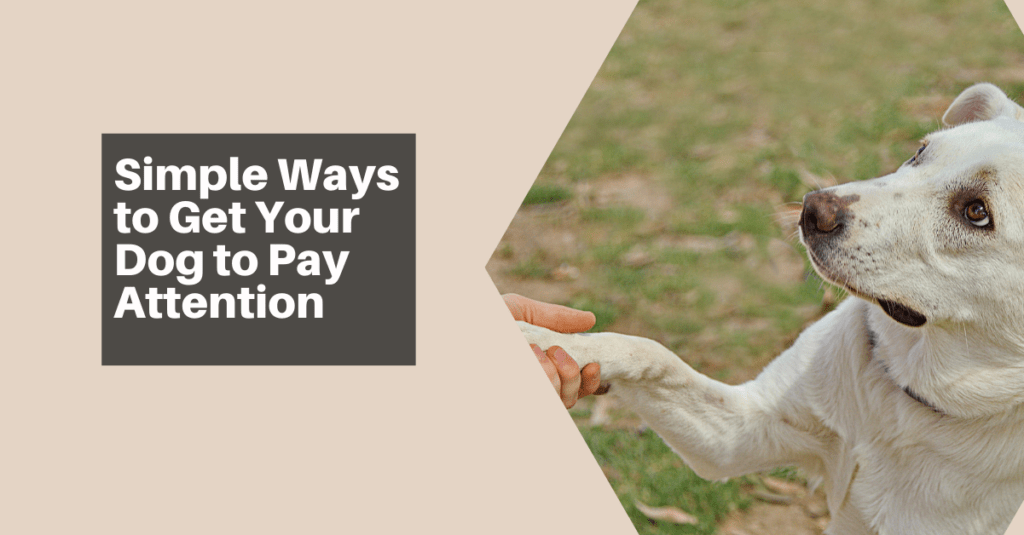 Brain training is a super-effective way to increase your dog's ability to pay attention to you!
Many of the games in my Brain Training for Dogs course are designed to improve your dog's attentiveness. One of my favorites is "The Airplane Game," which you can access for free. In this simple game your dog will learn the following important skills:
Dog's Attention –
The "Smacking Sound"
Wouldn't it be great if there was a noise we could make at any time to get our dog to immediately pay attention to us? Well, fortunately for us there is, and it's called the "smacking sound"! But before we can harness its power, we need to teach our dog that this particular sound = food.
After doing this for a while, you should notice that your dog looks at you for his treat whenever you make the sound. With continued practice, you can start using the smacking sound in everyday life when you want to grab your dog's attention!
The Importance of Incentives
There are many different types of incentives, but food rewards are the most common. These rewards are given to a dog whenever he successfully performs a certain action. So let's say we just started teaching our dog to "sit" for the first time. When he sits successfully, we would reward his effort by slipping him a doggy biscuit or piece of kibble. Now, the next time we ask him to sit, he will be eager to do so because he knows that he will get something tasty in return!
In the Brain Training for Dogs program, I cover techniques that allow you to stop giving your dog a treat every time he successfully performs a certain action, and also introduce other forms of reward.
What Makes My Dog Training System So Unique…
Most Dog training programs today fail to engage your Dog on a mental level and fail to develop his/her intelligence. With enough mental stimulation – many problem behaviors simply melt away.
Dog training programs fail you and your dog because they never address the root cause of your dog's problem behavior. They just give you some cookie-cutter technique to stop biting, chewing, or barking – which is short-term in its effectiveness at best – again, because it does not address the root cause of the problem.
Most dog training programs use OUTDATED force and dominance techniques. This is proven NOT to work by the latest research. My methods are force-free and gentle. They rely on the latest science in dog behavior research to create a strong bond between you and your dog and create positive emotions in your dog as opposed to fearful ones. They only reinforce the behaviors you want.
Many other online dog training programs are created by PHONEYS with no certifications… This is dangerous, since using the wrong techniques will lead to problem behaviors getting worse or even a bite in some cases. Avoid taking advice from any "trainer" who does not list his/her professional certifications.
When you stimulate your dog's mind correctly with a very specific set of games I'm going to show you…
Your dog's problem behaviors can fade away
Your dog will be better behaved and more obedient
Your dog's ability to learn will skyrocket
Your dog's temperament will improve
Your bond with your dog will become stronger
Your dog's health will improve
Obedience 101 Training (dog's attention) …which includes:
Insider secrets of using a 'food lure' to train your dog to complete your commands.
The critical element needed to get your dog to sit/lie down/take or leave items.
Key strategies for getting your dog to stay/heel/come to you and listen to your every command. You will also learn how to teach your dog to 'drop it,' which can literally save your dog's life if he ever picks up something dangerous!
You will discover the exact methods I have used to successfully teach obedience commands to hundreds of dogs, and learn the secrets that will make your dog eager to listen to your every word!
Read the new posts: Coronavirus In Dogs: Humans Are the Biggest Risk To Pets & Avoid contact with your dog immediately if you are Covid-19 positive
Disclaimer: This blog post contains affiliate links, which means that I receive a commission from any purchase through these links. Receiving a commission will not affect your purchase in any form.
Please follow and like us: