Last updated on February 25th, 2022 at 11:10 am
Pet accessories are an important part of taking care of your dog. Generally, we use accessories to accentuate the beauty of things. When it comes to pet care accessories are used to protect your pet from harmful elements. You can also gain a lot of satisfaction from buying accessories for your pet.
All of these concepts go the same way when applied to taking care of dogs. People who are into dogs skills important dog accessories are. In fact, many dog lovers even contend that purchasing dog accessories gives an equivalent satisfaction as buying accessories is to women.
Today, there many dog accessories available in the market, and choosing the best dog accessories can be very wearisome. So, it's important to know the factors that need to be taken into consideration before buying them.

Here are some tips on what to look for when buying dog accessories.
Dog collars
There are varieties of dog collars available in the market today, ranging from plain to fancy. Whatever type or design one may prefer, the most important thing to consider is that it should properly fit the dog. It should never be too loose or too tight. Experts say that the ideal space between the dog's neck and the collar should be two fingers wide.
Dog leash
If the owner is fond of bringing his dog to the park or just for a walk around the corner, it is best to buy a quality leash. It should provide convenience both for the dog owner and the dog.
Food and water bowls
Dogs are like people too. That is why it is important to buy them quality food bowls and water bowls that will not be easily tripped or spillover.
Dog toys
Most dogs are fond of playing, so, it's best to give them toys to gnash, chew, or bite with. Having his own things will make him more behaved instead of chewing the slippers or shoes.
Doghouses
When placed outside, dogs should have their own place for shelter. This is to keep them away from direct sunlight or from the rains.
Indeed, choosing the best dog accessories are relatively important. The point here is that if dog owners know how to respect their dogs by giving them the things that they need, chances are, their dogs will give them the respect and service that their masters are expecting from them.
So, it's important to bear in mind that the next time people decide on buying a dog, it's best to buy them their accessories as well.
This is a shortlist of five essential products that you should have at home, to do excellent dog care,  so you can take care of your pet and all his or her basic needs.
Shampoo
What is the healthiest dog shampoo? Earthbath Oatmeal and Aloe.
It has no parabens, phthalates, sulfates, or other additives and comes in unscented or a vanilla and almond version if you want a mild scent. 
Brushes
You need one or two brushes for your puppy. I have two different kinds of brushes that I use on her about every day or every other day since I want her fur to stay groove and nice this first brush is from the wall and it's kind of a prickly brush as you can see here and this is perfect to smooth out her hair so I usually use this on her ears and on her feathers around her stomach and around her legs so that it keeps them not free and then for larger areas.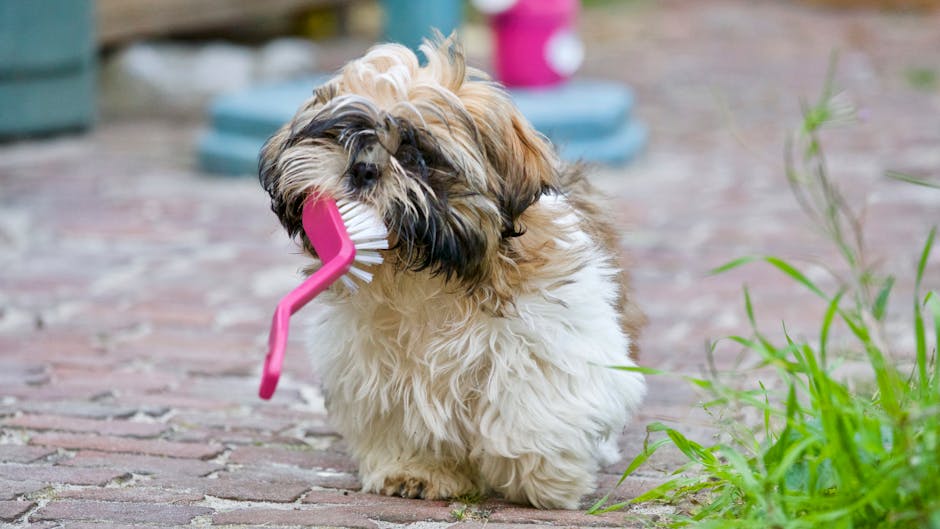 Ear Care
I use this once a week and I will usually put a few drops on a cotton swab and then just clean out the outside of her ears and then I would drop another two drops directly in her ear canal and then massage it in and that way she's going to shake off all the excess and her ears are going to be really really clean and it's going to prevent a lot of the infections too.
Oral Health
The breath and this is a big problem amongst dog owners because puppy breath can go really really bad so what I would suggest is just again starting with this really early.
I started with her him when she was about nine weeks old so she is really used to it, and we do this every day or every other day because oral health just like for humans is essential for pets.
She really enjoys the smell of her toothbrush and the small over the toothpaste so just make sure that you brush your dog's teeth so that they can have a healthier overall health as well because their overall health is actually affected by their oral health as well and there's a toothpaste.
Nail Care
Nail care and this is what I use for her this is again from the wall it's a nail clipper make sure you read the proper instructions on how to use this.
You don't want your dog to injure itself when its nails are too long so you can just save some money from going to the groomers – and then you'll be able to trim their nails at home.
Read more about how to prepare your dog for winter & Animals and Covid-19
Please follow and like us: